Dentists in Baton Rouge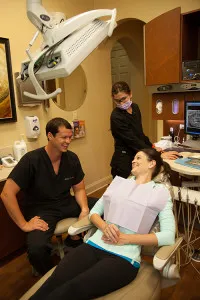 Dr. Juban and Dr. Cowen at Juban Cowen Dental Care are highly experienced and qualified dentists who serve the residents of Baton Rouge and the surrounding areas with high-quality dental care. We are a comprehensive dental practice that offers preventative, general, restorative and cosmetic dental care for children and adults of all ages. Our dentists and dental support staff are devoted to restoring and enhancing the beauty of your smile using conservative, state-of-the-art procedures that will result in beautiful, long-lasting smiles.
As your dental health professionals, we want you to be confident knowing that we are a team of highly trained and skilled clinicians. We pride ourselves in providing the care you need to keep your smile healthy. To give you the best possible service and results, we are committed to continual education and learning. Our dentists and staff attend dental lectures, meetings and conventions to stay informed of new techniques, the latest products, and equipment that a modern dental office can utilize to provide state-of-the-art dental care. In our dental office, infection control is crucial. To protect our patients and ourselves, we strictly maintain sterilization and cross contamination processes using standards recommended by the American Dental Association (ADA), the Occupational Safety and Health Administration (OSHA), and the Center for Disease Control (CDC).
Baton Rouge LA Dental Care
For top quality dental care near Baton Rouge, LA, call Juban Cowen Dental Care. Our mission as a dental team is to serve our patients through excellence, with a gentle touch, in a stress-free environment. Whether you require a dental cleaning or periodontal disease treatment, our dentist and staff understand that all of our patients are individuals: each with his or her own needs and concerns. We strive, as a unified team, to listen first and then deliver uncompromised care. We are forever learning and educating ourselves to provide our patients with the most state-of-the-art oral health care. Whatever we can do to make you love your smile is our goal!
Dentists in 70815 & 70726
If you live in the 70815 or 70726 zip codes and are looking for a skilled yet gentle Baton Rouge Dentist, our caring dental team is here to help! Here are links to some of our most popular dental services: Cosmetic Dentistry, Family Dental Care, Sedation Dentistry and Dental Restorations for a peaceful dental experience.
So if you are looking for a dentist in Baton Rouge, Denham Springs, Gonzales, Livingston, Prairieville or Walker, call us today and see what a difference a beautiful, healthy smile can make.
Our practice is currently accepting new patients, and we would appreciate the opportunity to care for you and your family. We work with many dental insurance providers and can help you make the most of your dental coverage. Contact our Dentists in Baton Rouge (225) 777-9236 to schedule an appointment today. We thank you for allowing us to take care of your dental care needs and look forward to serving you.