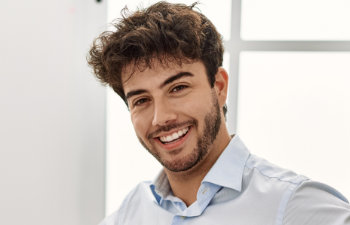 While brushing is crucial, dental sealants could be the simplest way to prevent cavities in children. A CDC report praises the procedure's benefits in children, and The American Dental Association endorses it. Both groups have accumulated data showing that children with dental sealants have fewer cavities than those without them.
Dental Sealants are a Food and Plaque Shield
Dental sealants on the surface of your teeth (usually your back molars) help prevent the accumulation of bacteria and acids that cause tooth decay. They work by smoothing out the pits and crevices in our teeth, preventing cavities. These faults are difficult to clean and easily collect food, building up plaque.
Sealant Application is Painless
Sealants are a thin covering painted on teeth. It takes a few minutes to bond the sealants, but they provide years of protection. Thus, the procedure and its results are painless – as is avoiding cavities!
Sealants are Invisible
Sealants are virtually undetectable, blending right in with the teeth. So, only the dentist will know you have them.
You Gain Integrated Oral Care Support
In many cases, even the most diligent tooth cleaning and flossing routine does not remove all the decay-causing particles and bacteria that get trapped in the pits and cracks of molars. In addition, the back teeth's nooks are particularly challenging to clean. Fortunately, dental sealants provide the oral care support you need to keep out dangerous foods and plaque from those hard-to-reach areas.
Sealants are Appropriate for Adults, Too
Dental sealants are a general dental treatment that works for children and adults. While tooth sealing frequently starts at an early age, adults can also benefit from its deterioration prevention effects.
Sealants are Long-Lasting
Dental sealants can prevent cavities for up to ten years. However, they might wear or chip over time and need to be repaired. Therefore, we will examine your dental sealants during your usual yearly or semi-annual dental check-up.
Sealant Maintenance and Repair is Simple
If a sealant becomes worn or chipped, we simply apply more sealant to the defect.
Contact Juban Cowen Dental for Stronger Teeth with Sealants
If you are interested in dental sealants for your children or yourself, please call the office of Juban Cowen Dental at (225) 927-8663 to schedule an appointment with Dr. Juban or Dr. Cowen. We are eager to make it easy for you to keep your teeth healthy with sealants.
Posted on behalf of Juban Cowen Dental Care
8564 Jefferson Hwy, Suite A
Baton Rouge, LA 70809
Phone: (225) 927-8663
Email: [email protected]
Mon & Wed 7:30AM - 5:00PM
Thu & Tue 7:30AM - 1:30PM
Fri 7:30AM - 12:30PM