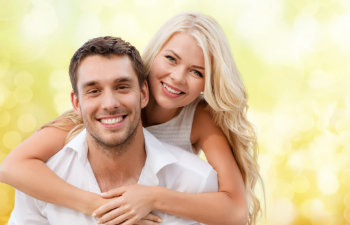 Whitening your teeth is one of the easiest procedures that you can do to instantly enhance your appearance. A beautifully white smile is something that everyone notices and most people desire to have for themselves. A bright white smile is an accessory that goes with everything! Millions of Americans visit the dentist each year to have their teeth professionally whitened. In fact, teeth whitening is the most sought-after cosmetic procedure done throughout the world.
While teeth whitening can produce highly dramatic results, it is not a permanent solution. Over time, most people find that their teeth will revert to the dull and yellowish hue they originally wanted to improve. However, this should not stop you from whitening your teeth. There is good news – you can help prolong your whitening results by following just a few simple steps.
Maintain proper oral hygiene. Nothing will achieve, improve, and maintain the appearance of your smile more than good oral hygiene habits. You need to floss at least once a day and brush your teeth at least twice a day to keep your smile healthy.
Avoid foods and drinks that cause stains to develop. Coffee, tea, red wine, alcohol, soft drinks, acidic juices, blueberries, and blackberries are all infamous for causing stains. By avoiding these altogether, you can keep your smile white for years. However, if you can't control the urge and want to partake in these foods and beverages, you will want to rinse your mouth with water afterward to help wash away stain-causing residue from the teeth. Also, drinking with a straw will help keep staining liquids from coming into direct contact with your teeth.
Use over-the-counter whitening products. Many kinds of toothpaste and mouthwashes are marketed to help whiten teeth and prevent staining. Of course, nothing will achieve the results of a professional teeth whitening treatment, but these over-the-counter products can help prolong your whitening results.
At Juban Cowen Dental Care, we are pleased to offer Zoom® teeth whitening for in-office cosmetic dental treatment. Patients can dramatically lighten their natural tooth color by several shades in just one treatment.
Contact our practice to learn more about this safe and effective treatment, and schedule your appointment today.
Posted on behalf of Juban Cowen Dental Care
8564 Jefferson Hwy, Suite A
Baton Rouge, LA 70809
Phone: (225) 927-8663
Email: [email protected]
Mon & Wed 7:30AM - 5:00PM
Thu & Tue 7:30AM - 1:30PM
Fri 7:30AM - 12:30PM