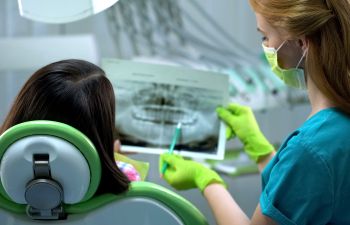 Root canals have gotten a bad rap over the years. They indeed used to be one of the more uncomfortable dental procedures. Today, they are similar to more routine visits like cavity fillings. Thankfully, a root canal can help to save a tooth that may otherwise have to be extracted, potentially avoiding other more serious and expensive dental work in the future, like bridges or implants. What is a root canal, and what can you expect?
What is a Root Canal?
During a root canal, your dentist or endodontist removes the infected pulp inside the tooth and the abscess at the root of the tooth. With the infection cleaned, the tooth can be filled with material similar to that used during a regular filling. The dentist may also place a crown over the tooth for added strength. After the procedure, you will likely need to take antibiotics for a short time to ensure the infection is completely gone.
How Do You Know You Need One?
Your dentist may notice early signs that you need a root canal during a physical exam, x-rays taken on a routine visit or while treating another dental issue. However, if a tooth has already become infected, you may notice more severe symptoms like pain, swelling, sensitivity, rapid decay or a chipped tooth. If the infection has spread, you could have a sour taste in your mouth, or the abscess may be visible along the gums.
Is a Root Canal Painful?
While it's true that root canals used to be an uncomfortable procedure due to the amount of work required, that's no longer the case. Effective anesthesia during the root canal limits pain, and most people can return to work or school immediately afterward. You will most likely experience slight discomfort for several days, but can take over-the-counter pain medication or apply ice to help with any discomfort.
If you are experiencing discomfort or any other dental symptoms, call Juban Cowen Dental today to schedule an appointment. If a root canal is required, we can discuss your concerns before and ensure you are comfortable during the procedure.
Posted on behalf of Juban Cowen Dental Care
8564 Jefferson Hwy, Suite A
Baton Rouge, LA 70809
Phone: (225) 927-8663
Email: [email protected]
Mon & Wed 7:30AM - 5:00PM
Thu & Tue 7:30AM - 1:30PM
Fri 7:30AM - 12:30PM