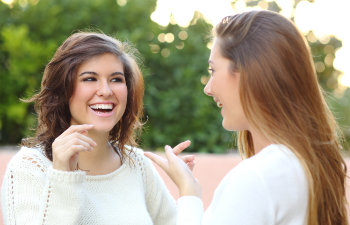 Who does not love this time of year when the festivities rev up with all types of delights for eyes, ears and of course, mouths? During the holiday season, all types of delicious foods and beverages make their way to the table, tempting you with flavors that will not be savored again until this time next year. It is hard to deny the taste of buttery cookies and cakes, spiced wines, sweet and savory dishes and pastries.
The culinary delights of the holiday season often take their toll on the waistlines and oral health of those who are not prudent with their choices and habits. Indulging in the delights of the season is to be expected. After all, it only happens once a year. The important thing is to be diligent about your oral hygiene as you partake of the season's bounty.
Take a Moment for Good Dental Care
This time of year gets to be full of activities as well as tasty treats. You may find yourself exhausted with maintaining your usual duties and adding to them the additional undertakings of shopping, attending parties and get togethers, visiting with family and friends, baking, cooking, decorating and so on. At the end of the day, relaxation, peace and quiet are paramount. And so is taking care of your teeth. Brushing and flossing should never be neglected, but especially not during times of increased sugar intake.
If you are indulging in foods and beverages with high sugar intake and holiday fare with refined carbohydrates, it is very important to brush and floss after every meal. Refined carbs such as white flour will break down into simple sugars when left in your mouth. Harmful bacteria feed on these substances and create an environment in which dental decay and gingivitis can flourish.
During this time when so many individuals must wear masks during their work hours, dry mouth is also a problem. Unless you are making a special effort to stay hydrated and keep your mouth moist, wearing a mask for hours every day can lead to dry mouth and a ripe environment for the breeding of bacteria and development of tooth decay and gum disease.
Oral Hygiene on the Go
Fortunately there are a wide range of devices to use to maintain good oral hygiene at home and on the go. You can purchase small one-use toothbrushes complete with toothpaste for use away from home. Special flossing tools are popular, too, for use away from home. When you cannot brush or floss, a good rinse with plain water after eating will help greatly in removing harmful bacteria. If you wear a mask, remember to remove it when you can manage to get out and get some fresh air. Chew gum or suck on sugar-free candies to help maintain moisture in your mouth.
The team at Juban Cowen Dental hope you have a wonderful holiday season and we are here to help keep your oral health at its best all year long. Call us to schedule an appointment.
Posted on behalf of Juban Cowen Dental Care
8564 Jefferson Hwy, Suite A
Baton Rouge, LA 70809
Phone: (225) 927-8663
Email: [email protected]
Mon & Wed 7:30AM - 5:00PM
Thu & Tue 7:30AM - 1:30PM
Fri 7:30AM - 12:30PM