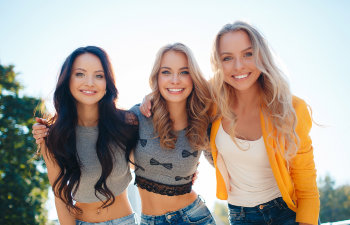 With school back in session and kids participating in sports, the risk of tooth injury from sports is high. In fact, according to statistics, over 3 million teeth are knocked out (avulsed) each year. Dental injuries are highest with basketball and baseball due to the lack of facial protection. Other sports such as hockey, rugby and soccer also rank high with dental injuries. Kids around the ages of 8-12 are most likely to be injured.
When a Tooth Is Knocked Out
It can be very upsetting to the athlete and parents when an injury is sustained. Young athletes will often panic from the shock of the accident. Seeing the tooth and/or blood can be traumatic. Working to keep the child calm is important. Follow these steps if possible:
Pick up the tooth by the crown. Do not touch the root if possible, because that could damage the nerve of the tooth.
If the tooth is dirty, rinse it with water, milk or saline. Saliva can be used if necessary. Be sure not to touch the root while rinsing. 
Put the tooth in a small container or plastic bag with milk until you can get to the dentist.
Do not try to re-implant the tooth in the socket if it is dirty. A dirty tooth can cause infection. Also do not try to re-implant a primary tooth. This could disrupt the development of the permanent tooth behind it.
Control bleeding by using light pressure and cold compresses before trying to reinsert the tooth. If a clot has formed in the tooth socket, do not disturb it.
Get to the dentist as soon as possible.
Getting to the dentist quickly provides the best chance of saving the tooth. The longer the tooth is out of the socket, the more likely cells will begin to die. If you cannot re-implant the tooth immediately, store it in the cheek, in a small container with milk or in a saline solution. Plain water is a last resort. Get to the dentist as soon as possible.
If the athlete is unconscious, do not put the tooth in the mouth, because it could be aspirated or cause choking. Be sure to have your athlete checked for concussion also. Checking for head injury is more important than an avulsed tooth.
Quick, Compassionate Dental Care
Quick thinking and a calm manner are best when dealing with sports-related injuries, especially where younger athletes are concerned. Juban Cowen Dental is dedicated to ensuring our patients have the best dental care available. If your young athlete has a dental emergency, be sure to contact us right away. Count on us for all your family's dental requirements.
Posted by Juban Cowen Dental
Posted on behalf of Juban Cowen Dental Care
8564 Jefferson Hwy, Suite A
Baton Rouge, LA 70809
Phone: (225) 927-8663
Email: [email protected]
Mon & Wed 7:30AM - 5:00PM
Thu & Tue 7:30AM - 1:30PM
Fri 7:30AM - 12:30PM