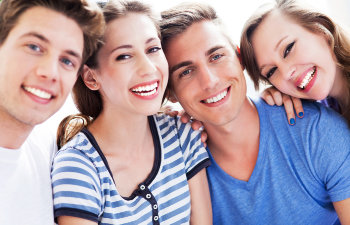 As the year comes to an end, you may want to spend some time on reflection. Many people use this time to think about the resolutions or changes in their life they want to make for the New Year. A smile makeover may be on the list for some people. When you make an assessment of the changes you would like to see, take a look at yourself in the mirror and ask yourself if your smile could be enhanced.
Beyond Good Oral Health
The perfect smile begins with good oral health. If your teeth and gums are healthy, you have the foundation for a beautiful smile. Changes you may want to consider to make your smile even better can be as simple as having your teeth whitened. Starting the new year with bright, white teeth is one way to enhance your smile without much fuss or bother.
There are all types of whitening products on the market, but getting your teeth whitened professionally is a safe, sure way to get your teeth looking their best. Over-the-counter products may not be as effective and some may cause damage to the teeth or gums. Professional whitening takes the guesswork out of the equation and provides you with a bright smile.
Other cosmetic dental procedures such as dental veneers or dental bonding can correct blemishes that may keep your smile from looking its best. A consultation appointment with one of our dentists can help determine which procedures will produce the results you want for your best smile.
Restoring Self Confidence
Missing teeth can wreak havoc on your smile. Your self-confidence may be at a lower level if you are constantly hiding your smile due to missing teeth. You may be missing out on social events because you feel self-conscious about the way you look. Research shows that the condition of your teeth can have an impact on your upward mobility on the job.
There are various ways to replace missing teeth and restore the beauty of your smile. Start the new year off with a consultation appointment with Juban Cowen Dental Care to find out how you can have those missing teeth replaced. When you smile with confidence, your life can change. Contact us today to make an appointment and get your New Year off to a great start.
Posted on behalf of Juban Cowen Dental Care
8564 Jefferson Hwy, Suite A
Baton Rouge, LA 70809
Phone: (225) 927-8663
Email: [email protected]
Mon & Wed 7:30AM - 5:00PM
Thu & Tue 7:30AM - 1:30PM
Fri 7:30AM - 12:30PM