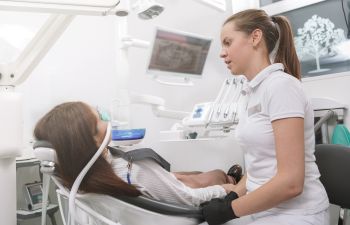 The semi-annual trip to the dentist for a checkup is a regular event in the life of many children. For other kids, dental checkups are less frequent and more traumatic, especially if cavities or tooth pulling is involved. Fortunately, methods of sedation have been used for some time to relax young patients while in the dentist's chair. For many adults, visits to the dentist are not as regular and only extreme circumstances can lead them to schedule an appointment.
Why Not to See a Dentist
According to a Gallup Poll in 2013, about one third of individuals aged 18 and over have not visited a dentist in the previous 12 months. For some time, there has been a strong correlation shown between oral health and heart disease, so one might wonder why so many don't keep up with regular dental visits. There are several well-known and understandable reasons.
Pain of any kind can be prohibitive. Each person experiences pain differently and for some, mouth pain is intolerable. Worry about potential pain is often listed as one of the most common reasons patients delay dental visits until it can no longer be avoided.
The sounds and smells found in a dental office can trigger anxiety in some patients.
Other patients have genetic predispositions to dental difficulties and just don't want to hear more bad news regarding their health.
Most modern dentists are quite gentle and use appropriate pain management strategies, but some seniors have traumatic memories of times when dental care was accompanied by pain. Negative experiences can also lead to anxiety and dentophobia, a full-blown fear of dentists.
Sedation Options
Adults experiencing any sort of dental anxiety have several sedation dentistry options regarding dental care that help to alleviate the anxiety associated with the bright lights and phobias.
Nitrous Oxide, also known as laughing gas, has been in use since the mid-1800s. It is well known for its ability to relax patients while keeping them awake, conscious and able to follow instructions.
Oral conscious sedation uses an oral medication, taken about an hour before the procedure, to relax and calm the patient. You still maintain consciousness and the ability to follow simple instructions.
IV conscious and general sedation are available for patients and procedures requiring a more deeply relaxed state. IV sedations are performed by a Certified Registered Nurse Anesthetist (CRNA) and vital signs are monitored throughout the procedure by nurses and dental assistants.
If you or someone in your care experiences anxiety regarding dental visits, both routine and unusual, contact Juban Cowan Dental to schedule an appointment to plan your next sedation dentistry visit.
Posted on behalf of Juban Cowen Dental Care
8564 Jefferson Hwy, Suite A
Baton Rouge, LA 70809
Phone: (225) 927-8663
Email: [email protected]
Mon & Wed 7:30AM - 5:00PM
Thu & Tue 7:30AM - 1:30PM
Fri 7:30AM - 12:30PM