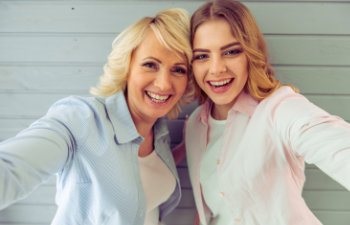 Proper oral hygiene should be a priority in your life. Requiring less than five minutes a day, you should be able to maintain a healthy smile. You only get one set of permanent teeth in your lifetime, so maintaining your oral health needs to be something you take an active role in. However, even the most avid teeth flosser and brusher can experience dental trauma that results in a broken tooth. A serious accident, a blow to the face, or even a minor incident from biting your fingernails or chewing on a pen lid can cause a broken tooth.
Severe pain generally accompanies a broken tooth. Every tooth inside the mouth is an individual living feature with its own nerve endings and blood supply. Intense pain is a tell-tale sign of a broken tooth because the nerves inside the tooth are often damaged or exposed. Whether you think you have a broken tooth or not, if you experience pain inside your mouth, you need to contact your dentist. Oral pain is an indication that your oral health is compromised. Unlike many other areas of the body, the teeth cannot heal themselves. In fact, ignoring dental pain or oral health issues will only make matters worse because a domino-effect will be underway, and your entire smile will be vulnerable to irreversible damage.
If you have a broken tooth, most often, you will know it. A common symptom is that a piece of the tooth is missing. Another common symptom is pain in the back molars when you bite down or apply pressure. If you have a broken tooth, take these steps immediately:
Find the broken piece, or pieces, of your tooth.
Place the piece in a small cup with milk or your own saliva to keep the piece moist.
Contact your dentist right away!
Rinse your mouth with warm water to clean the affected area.
If you are in severe pain, take an over-the-counter pain reliever to help reduce your pain until you see the dentist.
Place a cold compress on the outside of your mouth to reduce swelling.
Stay calm.
At Juban Cowen Dental Care, our practice is dedicated to providing patients with the highest standard in dental care services. We make room in our daily schedule to work in dental emergencies, so please do not hesitate to call us if you experience any damage to your smile. The sooner we can see you, the sooner you will be out of pain and the greater chance we have of saving your natural tooth.
Posted on behalf of Juban Cowen Dental Care
8564 Jefferson Hwy, Suite A
Baton Rouge, LA 70809
Phone: (225) 927-8663
Email: [email protected]
Mon & Wed 7:30AM - 5:00PM
Thu & Tue 7:30AM - 1:30PM
Fri 7:30AM - 12:30PM